Black Friday Deals--Up to $100 OFF + Free Gifts
Feb 16, 2022 by LeiDai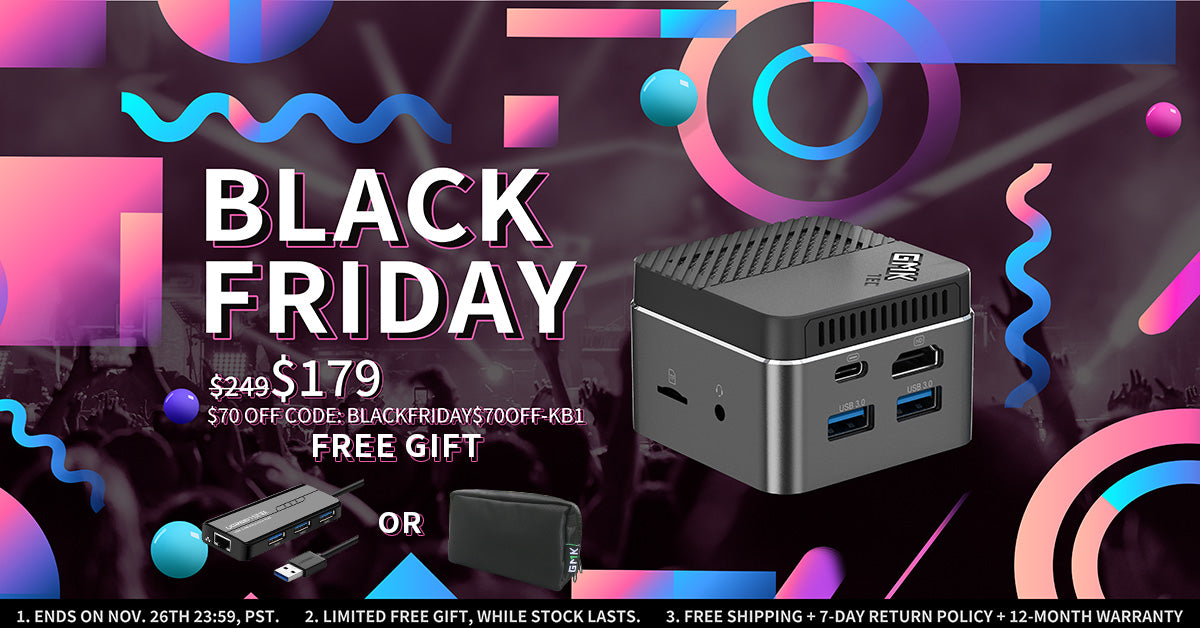 Black Friday is here! And it will be less enticing if we are not offering Huge Discounts + Free Gifts. Just read through.  
NucBox S 4K Mini PC
  --Intel-powered Pocket-sized Windows 10 Mini PC
 Code: BlackFriday$70OFF-KB1
Discount: $70OFF
Was $249, now $179
Model: 8+256GB
Limited Free Gift: 1. Carry bag
2. UGREEN RJ45 Hub w USB 3.0 Ports 
Note: A random gift will be sent unless specified your desired gift through Shopify Chat/email ([email protected]) while placing orders;
Head over to:
https://gmktec.com/products/nucbox-most-powerful-palm-sized-4k-mini-pc-1
Chigz Tech Reviews (old version):
https://www.youtube.com/watch?v=zZPscjLJONM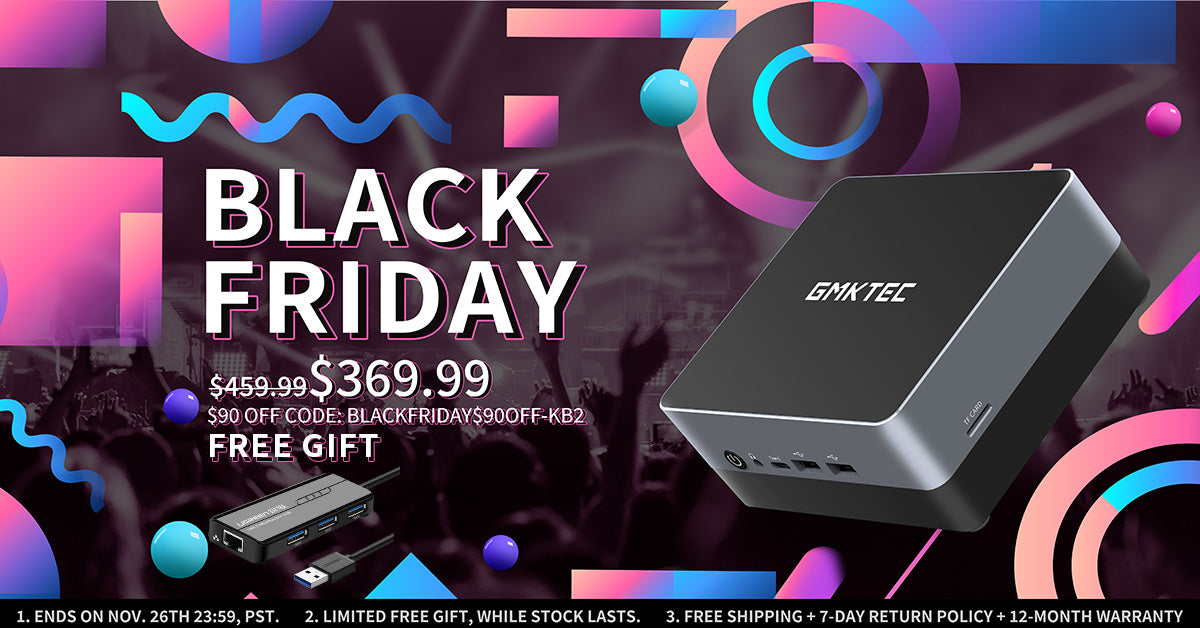 NucBox2 4K Mini PC- Intel Core i5 8279U CPU w 8GB + 256GB NVMe Drive
Code: BlackFriday$90OFF-KB2
Discount: $90 OFF
Was $459.99, now $369.99
Free gift:  UGREEN RRJ45 Ethernet USB hub

Intel Core i5-8279u 4K mini PC;
Intel® Iris® Plus Graphics 655;
Dual-channel DDR4 8GB RAM, up to 32GB;
M.2 Nvme 2280 256GB SSD, max expansion up to 1TB, 2.5" SATA HDD Up to 2TB;
Connectivity-wise
1. USB A 3.0*4,
2. USB3.0 Gen.2 Type-C *1,
3. 4k HDMI *2,
4. Giga LAN(RJ45)*1
Wi-Fi 5, BT4.2
Windows/Linux OS support (WIN 11 Upgradable);
Dimensions: 125mm x 110mm x 50mm (4.9*4.3*1.9 inch);
Weight: 426 grams;


Head over to: https://gmktec.com/products/nucbox2-intel-core-i5-8259u-4k-mini-pc
ETA PRIME Review (i5 8259u version): https://youtu.be/NTgdjzeoo_0
TechTablets Review (i5 8259u version): https://www.youtube.com/watch?v=l0IMMnYGqfk&t=306s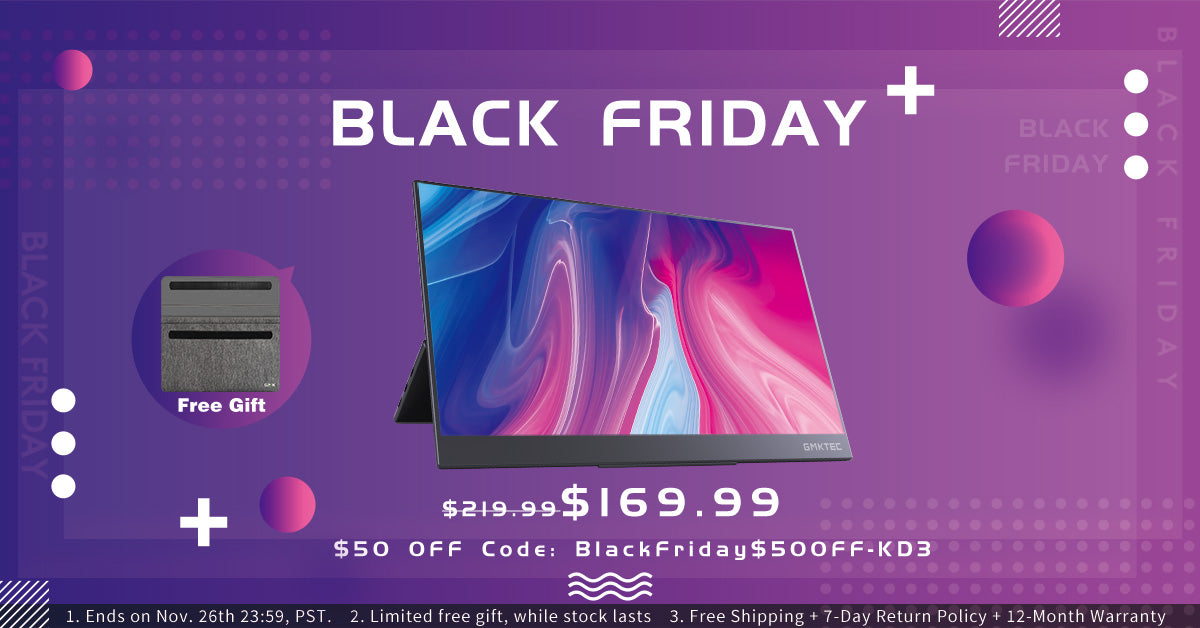 Xpanel SE 15.6" FHD Portable Monitor w Dual USB-C/HDMI/Kickstand/HDR
Code: BlackFriday$50OFF-KD3
Discount: $50 OFF
Was $219.99, now $169.99
Free gift:  15.6-inch sleeve case
15.6 inches 1920*1080 FHD;

16.7M Colors;

2*Full-featured USB-C Ports;

HDR Supported;

90° Folding Bracket;

It's a great partner for your laptop, smartphone, PS4, and so on.
 
Review:
https://www.notebookcheck.net/Easy-to-use-GMKTEC-XPanel-SE-1080p-portable-monitor-on-sale-for-179-USD.579349.0.html

Head over to:
https://gmktec.com/products/xpanel-se-15-6-fhd-portable-monitor
Xpanel 14" 4K UHD IPS Portable Monitor with Touch & Dual USB-C/HDMI
Code: BlackFriday$70OFF-KD1
Discount: $70 OFF
Was $339.99, now $269.99
Free gift:  15.6-inch sleeve case
It's a 14-inch portable monitor that delivers 4K resolution, and it supports touch too.

3840*2160 4K resolution;
100% sRGB;
16.7M Colors;
350 nits brightness;
5mm thickness;
10-point touch;
It's a great partner for your laptop, smartphone, PS4, and so on.

 
ETA PRIME Review:

Head over to:
https://gmktec.com/products/xpanel-14-inch-4k-uhd-portable-touchscreen-monitor