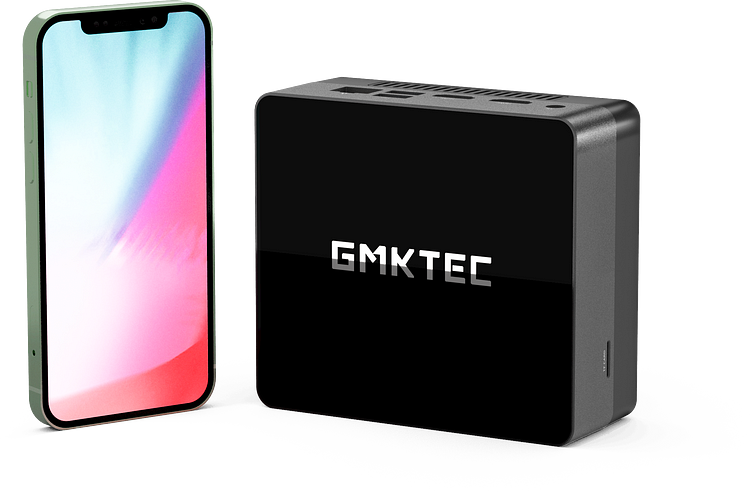 Optimized NucBox2--Intel® Coffee Lake i5-8279u mini PC
Born as a mini PC, NucBox2 is the second generation of NucBox with the higer-end processor and better graphics card, and it can serve as your media player, mobile office tool, and gameplay device, etc.
Core Features
Smaller, Yet Bigger
NucBox2 is a full-featured desktop computer mini PC packed with Intel® Coffee Lake i5-8279u processor with 4 cores 8 threads and the improved 14nm process.The base frequency is 2.4 GHz, and the turbo can be up to 4.1 GHz.
Faster Performance Graphics Card
Backed up by Intel® Iris® Plus Graphics 655 with an increased 28-watt thermal design power(TDP), NucBox2 mini PC performs faster,especially during sustained workloads.
Adopting DDR4 2666mhz 8GB RAM (dual channel supported)
with max 32GB expansion, seamless multitasking and switching between resource-hungry applications in an instant are possible.
M.2 Nvme 2280 SSD, Max 2.5" SATA HDD Expansion to 2TB
Paired with M.2 Nvme 2280 256GB SSD, max expansion up to 1TB, and it supports 2.5" SATA HDD up to 2TB expansion too.
(**4 pcs of FM3.0*5.0mm screws are included, used to lock the HDD bay)
A Wide Array of Ports
NucBox2 can be used with monitors, projectors, and mobile devices with the ports supplied,and it also supports wake on LAN, PXE boot, auto power on.
Dual Screen Display at 4K Resolution
NucBox2 comes with ultra high definition streaming capability, delivering the best-in-class video playback with true-to-life picture quality thanks to its Intel® Iris® Plus Graphics 655. Inside this tiny mini PC, there are 2* HDMI ports supporting dual-screen display at 4K resolution.
Giga LAN(RJ45) Ethernet
With Giga LAN(RJ45) Ethernet port, it enables internet connection with maximum data rate of 1,000 Mbps.
Support VESA Bracket
NucBox2 comes with VESA Bracket support, which can be small enough to fit unnoticed behind a monitor to save space, and transform into an all-in-one mini workstation PC.
(**2 pcs of machine screws are included, PM3.0*7.0MM, head cap diameter 3.5MM, used to lock the VESA; VESA bracket purchased separately.
Usage Scenarios
Much Faster & More Stable Wi-Fi 5
802.11ac-compliant, and operate in the 5 GHz frequency space, this standard supports data rates up to 3.46Gbps. And it also supports the 2.4GHz frequency via 802.11n. In addition, it supports Bluetooth 5.1 connection to a wireless headset, keyboard, mouse, and other devices.
Whisper Quiet Thermal Engineering
28W low power consumption design and 55mm cooling fan keep the crucial components' temperature down. Enjoy peak performance in a more quiet environment with just 19db noise control.
NucBox2 Technical Specs
NucBox 2 mini pc has obtained the FCC, CE, ROHS etc. certificates.

NucBox 2 Core i5 4K Mini PC FAQs:

Q: Can NucBox 2 support Win 11?
A: Yes, it comes with tpm 2.0.

Q. Does this have Windows 10 installed as its operating system?
A:Yes, it's Windows 10 Home version.

Q: Can it run on Linux/Ubuntu?
A: Yes, it supports multiple systems.

Q: Can I upgrade the RAM?
A: Yes, it support up to 32GB and comes with 2 slots.

Q: Can I add memory to it?
A: Definitely, it support up to 1TB SSD expansion in the NVMe M.2 2280, and you can also upgrade to 2TB via the 2.5" SATA HDD.

Q: How can I use these Mini PCs/Xpanel 4K / FHD monitors?
A: We've gathered some of the media reviews, for your reference, https://gmktec.com/pages/product-news-reviews.

Q: Where will my order be shipped out?
A: Currently, we ship out orders from the US, JP, and China. If you are located in the US or JP, we will ship from the nearby warehouse when our stocks are enough to handle the demands.

Q: How long will my order arrive?
A: Pls refer to the detailed description here: https://gmktec.com/pages/track-order

Q: How long does the warranty cover?
A: We offer a 12-month warranty on all our devices. Pls refer to the detailed description here: https://gmktec.com/pages/warranty

Q: What's your return/exchange policy?
A: We offer a 7-day return on all our devices. Pls refer to the detailed description here: https://gmktec.com/pages/returns-exchanges

Q: Can I purchase another set of power supplies, just in case?
A: Of course. You can find it here: https://gmktec.com/products/power-supply-units-for-mini-pcs-monitors