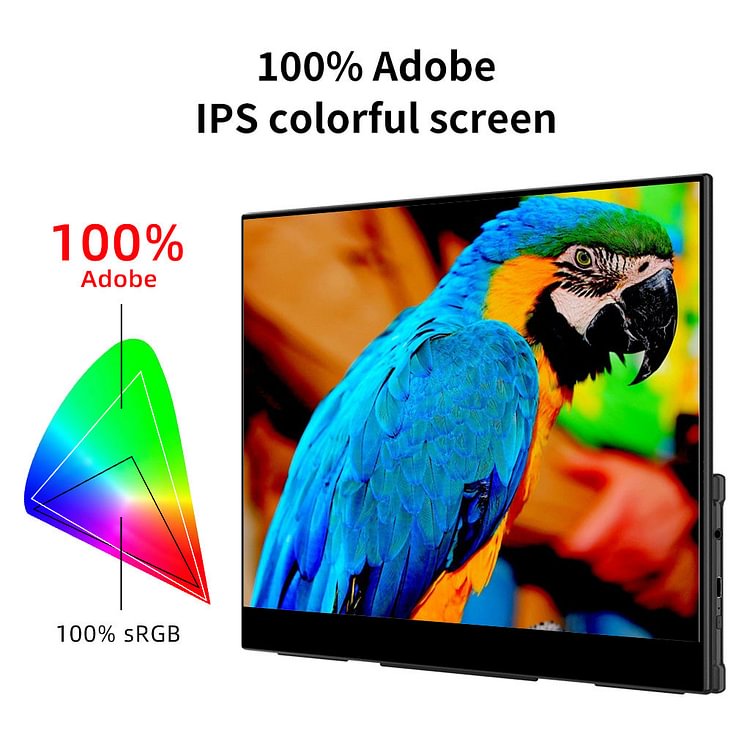 Xpanel 2--15.6" 4K UHD Portable Touchscreen Monitor
Never Miss A Detail
Life's too beautiful and it should be remembered down to every detail. With 4K HDR 3840*2160 pixels,100% Adobe, narrow bezel,10.7B colors,1500:1 contrast ratio, Xpanel 2 monitor captures every little detail in the image/video and sends it right back to you.
Color accuracy Delta E<2
The color ratio is accurate, and each color standard is controlled within the standard of △E<2 (average) before shipment. AE<2 average professional image color correction to restore true colors.
On-site Monitor + Post Production
Simultaneous on-site camera screen display, convenient for directors and photographers to monitor at the same time, more accurate color correction in post-production.
Why Should You Choose 10-bit over 8-bit Monitor?
If color accuracy is part of your job—photography, graphic design, animation, CAD/CAM, and similar purposes—then you would truly appreciate Xpanel 2 monitor, for its a billion colors is perfect for your job. While 10-bit reaches 1024 colors per channel, 8-bit will only reach 256 per channel. This means that 8-bit files will display 16.7 million colors, while 10-bit will display about 1.07 billion, which is a lot more!
Intuitive 10-Point Touch
Capacitive touchscreen offers a flexible and responsive touch experience for 10 fingers of yours, plus zero (0) latency, only 0.5ms to unlock all potentials with OSD menu.
Portrait and Landscape Mode Possible
Whether it's the portrait or landscape mode that you need when viewing content, just flip it over (up to 270°) and enjoy, easy as that and nothing will ever hold you back.
Product Details
Fluid Gaming
Avoiding tearing and reducing stuttering caused by a misalignment between the screen's refresh rate and the content's frame rate.
Use Senarios
Package Content
Why Choose GMK
Specifications
15.6-inch 4K Xpanel 2 Monitor FAQs:
Q: How can I use these Mini PCs/Xpanel 4K / FHD monitors?
A: We've gathered some of the media reviews, for your reference, https://gmktec.com/pages/product-news-reviews.
Q: Where will my order be shipped out?
A: Currently, we ship out orders from the US, JP, and China. If you are located in the US or JP, we will ship from the nearby warehouse when our stocks are enough to handle the demands.
Q: How long will my order arrive?
A: Pls refer to the detailed description here: https://gmktec.com/pages/track-order
Q: How long does the warranty cover?
A: We offer a 12-month warranty on all our devices.
Pls refer to the detailed description here: https://gmktec.com/pages/warranty
Q: What's your return/exchange policy?
A: We offer a 7-day return on all our devices.
Pls refer to the detailed description here: https://gmktec.com/pages/returns-exchanges
Q: Do you have a sleeve case/carry bag to pair with the monitor when needed for travel?
A: Sure. You can find it here:
https://gmktec.com/products/protective-bag-for-nucbox-mini-pc-and-xpanel-monitor
Q: Can I purchase another set of power supplies, just in case?
A: Of course. You can find it here:
https://gmktec.com/products/power-supply-units-for-mini-pcs-monitors