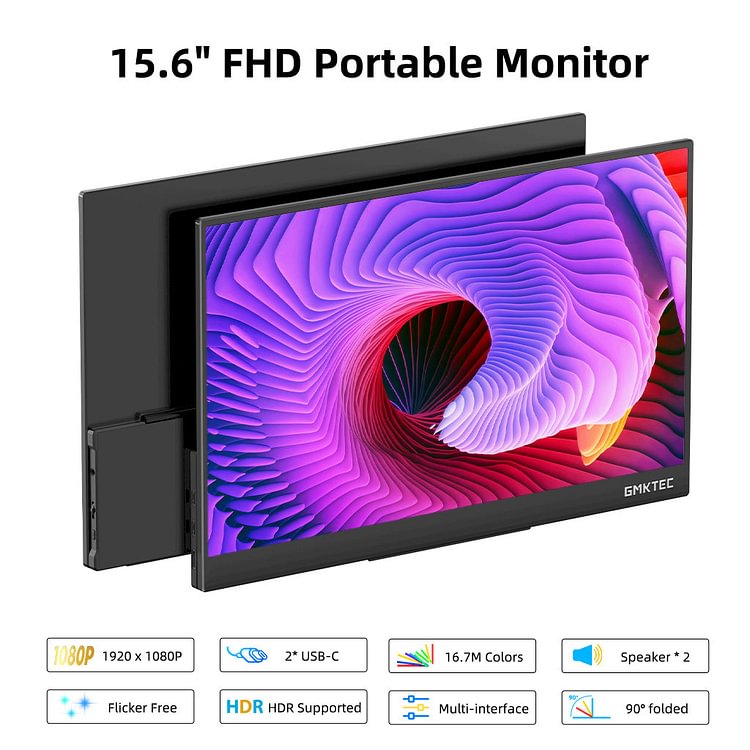 Bigger Screen, Bigger Fun
With 1920*1080 pixels, 16.7M colors, 16:9 aspect ratio,178° viewing angle, the content displayed on Xpanel SE will be more detailed and wider. 
HDR Support
With HDR supported, the Xpanel SE monitor has greatly lifted the clarification, color, and contrast and re-produces the image details.
USB C Monitor Turns Your Phone to Desktop
While connecting your phone to the Xpanel SE monitor, you can switch between mobile phone mode and computer mode at your wish.
Flicker-Free, Blue Filter
Xpanel SE delivers video/image on a flicker-free panel with blue-filtered, effectively relieves the dryness of watching the screen for a long time, plus it achieves a 60Hz refresh rate. No doubt the Xpanel SE monitor is the right fit for you to work and play no matter when you take it.
Dual Stereo Speakers
With the meticulously modulated high-quality stereo speakers, when you watch videos, play games, the sound is reproduced, delivering theater-like sound effects thanks to dual stereo speakers.
Fluid Gaming
Avoiding tearing and reducing stuttering caused by a misalignment between the screen's refresh rate and the content's frame rate.
Usage Cases
Package Content
Why Choose GMK
Why Choose GMK
15.6-inch FHD Xpanel SE Monitor FAQs:
Q: How can I use these Mini PCs/Xpanel 4K / FHD monitors?
A: We've gathered some of the media reviews, for your reference, https://gmktec.com/pages/product-news-reviews.

Q: Where will my order be shipped out?
A: Currently, we ship out orders from the US, JP, and China. If you are located in the US or JP, we will ship from the nearby warehouse when our stocks are enough to handle the demands.

Q: How long will my order arrive?
A: Pls refer to the detailed description here: https://gmktec.com/pages/track-order

Q: How long does the warranty cover?
A: We offer a 12-month warranty on all our devices.
Pls refer to the detailed description here: https://gmktec.com/pages/warranty

Q: What's your return/exchange policy?
A: We offer a 7-day return on all our devices.
Pls refer to the detailed description here: https://gmktec.com/pages/returns-exchanges


Q: Do you have a sleeve case/carry bag to pair with the monitor when needed for travel?
A: Sure. You can find it here:
https://gmktec.com/products/protective-bag-for-nucbox-mini-pc-and-xpanel-monitor

Q: Can I purchase another set of power supplies, just in case?
A: Of course. You can find it here:
https://gmktec.com/products/power-supply-units-for-mini-pcs-monitors
Q: How can I use these Mini PCs/Xpanel 4K / FHD monitors?
A: We've gathered some of the media reviews, for your reference, https://gmktec.com/pages/product-news-reviews.

Q: Where will my order be shipped out?
A: Currently, we ship out orders from the US, JP, and China. If you are located in the US or JP, we will ship from the nearby warehouse when our stocks are enough to handle the demands.

Q: How long will my order arrive?
A: Pls refer to the detailed description here: https://gmktec.com/pages/track-order

Q: How long does the warranty cover?
A: We offer a 12-month warranty on all our devices.
Pls refer to the detailed description here: https://gmktec.com/pages/warranty

Q: What's your return/exchange policy?
A: We offer a 7-day return on all our devices.
Pls refer to the detailed description here: https://gmktec.com/pages/returns-exchanges


Q: Do you have a sleeve case/carry bag to pair with the monitor when needed for travel?
A: Sure. You can find it here:
https://gmktec.com/products/protective-bag-for-nucbox-mini-pc-and-xpanel-monitor

Q: Can I purchase another set of power supplies, just in case?
A: Of course. You can find it here:
https://gmktec.com/products/power-supply-units-for-mini-pcs-monitors